Home
Upcoming Programs
November 12-17, 2018
Jaipur, Rajasthan
Welcome to Saharth!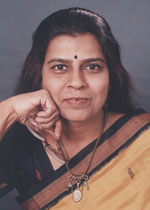 Saharth is a training and consulting organisation with the mission to be a catalyst in building values-based, collaborative and effective organisations. It provides a wide range of human resources and organization development services viz. training, HRD systems interventions and process-based development programmes.
'Saha' in Saharth means 'collaborative work' and 'Arth' stands for 'a sense of meaning as well as wealth'. Driven by these key words, our focus and excellence lies in facilitating people and organisations in the development of skills, competencies and systems for developing teams, collaborative leadership, and values-based business prosperity.
Saharth has evolved out of three decades of national as well as international experience of its founder, Dr. Uma Jain with individuals, groups and organizations in developing competencies to address the challenges of our times.
Please contact us for more information about Saharth and our services.
We look forward to hearing from you.
I am very happy to learn about your new initiative to provide meaningful programs through Saharth. With your track record of delivering significant value and developmental insights to the participants of your workshops, I am sure that, Saharth will grow and become a referral resource for people in search of professional and personal growth.
- A O Joseph, Vice President (Management Development), Patni Computer Systems Limited